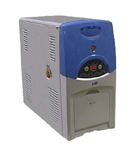 Your customers or employees can CLEAN UP easily with a refreshing, sanitary, temperature controlled at their fingertips. The BIRO Hot Towel Dispenser is ideal for restaurants, service stations, casinos, and markets, as well as any type of workplace.
This easy-to-use machine requires minimum labor to use; you just keep the reservoir filled and replace the towel roll as needed. For minimum expense you can provide your customers or employees with a sanitary convenience which lets them know that their well being is important to you. Help keep your customers coming back and clean up with the BIRO Model OST-300U Hot Towel Dispenser.
ELECTRICAL: 115-60-1 140W

STERILIZATION SYSTEM: UV lamp, antibiotic water tank, inner clean filter, brass heat exchanger

TEMPERATURE: Cool - 34-41° F, Hot - 158-176° F

WATER TANK CAPACITY: 96 ounces

TOWEL DISPENSING RATE: 23 towels/minute

DIMENSIONS: 9.5"W x 23"L x 20.5"H

WEIGHT: 40 lbs.