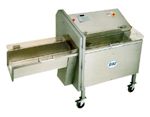 More Info
180 slices per minute raises your operation to a new level of productivity. Your labor costs are lower, and your profits are higher

Advanced safety features prevent your operator from being exposed to a moving blade. Safer operation means fewer lost man hours, greater productivity, and higher profits.

The specially curved blade slices the product rather than tearing it. This increases shelf life and reduces waste and shrinkage, which dramatically increases your profit margin.

The easy to use keypad with a nine program microprocessor lets you easily tailor the 109PC's operation to meet your requirements. Your productivity and profits are increased

More versatile than other competitive machines, capable of cutting any thickness from 1/16" (1.5mm) - 30" (762mm).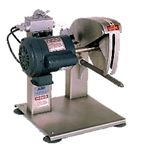 More Info
Stainless Steel Tabletop Poultry Cutting Machine. Available with 1/2 or 3/4 horsepower totally enclosed motor, 9-inch diameter special cutting blade, convenient on/off tilt switch, with electrical interlock system.
Excellent machine for cutting poultry, fish, rabbit, and duck. Applicable in large as well as small volume cutting applications.
Benefits include:
Excellent accuracy

Minimal tearing of product skin

Minimal cutting loss

Minimal product shrinkage

Wash down capability

Good sanitation features.